682 Locksmith offers car key replacement for any make, model and year. Our locksmith technicians are certified and highly experienced to help you with your car key problems. Our technicians are capable of replacing all types of keys, both standard and smart keys. We require all of our technicians to update their certification annually to take advantage of the most advanced and innovative smart key technologies.
Our smart key services include:
Transponder Keys
RFID Chip Keys
Push-to-Start Keys
Keyless Access
High Security Keys and more.
Did you know?
Smart Keys were developed by Siemens in the mid-1990s and introduced by Mercedes-Benz in 1997 to replace the infrared security system introduced in 1989.
With 682Locksmith, you save the high cost of towing and the long wait times associated with it. Our certified technicians will answer your call and be where you need us within 15-45 minutes. We arrive with haste and make you a new key immediately. We make sure that all of our vehicles are equipped with a mobile workshop, so making a new key on the spot is hassle-free. No matter how simple or complex the key of your vehicle.
Call 682-300-2286 now for more information!
Automotive key replacement technicians can cut, replace, and duplicate all vehicle keys including: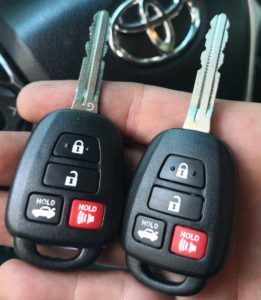 Standard keys
Foreign keys
Domestic keys
Smart keys
Chip keys
Transponder keys
High-security keys
Push to start keys
Mechanical cut car keys
Laser-cut keys
FOB keys
Vehicle anti­-theft system (VATs) key
Automotive technology has made tremendous strides in the last decade. Just a few years ago, a quick trip to the garage was all it took to have a new key made because it was a standard key. Nowadays, cars and security systems are far too intelligent for that. Today there are smart keys, chip keys, keys with a start button, transponder keys, FOB keys, laser cut keys and much more. While this great technology is wonderful for your vehicle's security, the complexity of it can also make your life difficult when it comes to repairs. Fortunately, at 682 Locksmith, we know exactly what we are doing and offer car key replacement at affordable prices.
Professional Key Replacement Service in Hurst
Call 682 Locksmith today at 682-­300­-2286. Call us now and rest assured that your wait will be short and the result will be a low cost new key for your car. Save time and money when you call 682 Locksmith! You can call your dealership however, dealerships are generally significantly more expensive than your local locksmith company. Don't allow the dealer to tow your car and charge you the towing and overnight fees. avoid paying for a temporary rental! Have a 682 Locksmith automotive key replacement specialist come to you! Don't wait a few days for your new key to be made. Get it done immediately and on the spot at your location. It does not matter if you are stuck on the side of the road, at your home, or place of business. Our technicians are trained, certified, and best of all, mobile!
Call 682 Locksmith now for a free estimate and be back on your way within the hour! Call 682­-300­-2286 if you need a locksmith in Hurst, TX! Call now and speak with our friendly customer service representatives! Our representatives will walk you through every step of the way. We will promptly and kindly answer your questions and then immediately dispatch a technician to your location!